Principal - Nicholas Hilton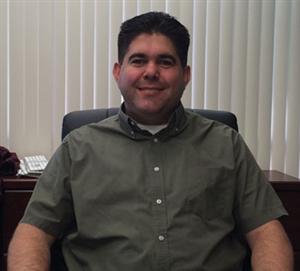 Welcome to the home page for Perris High School. It has been my honor to take over as principal of Perris High School effective December 2013. I served as both teacher and then assistant principal at PHS from 2002-2010. In 2010 I was assigned to Paloma Valley High School as Assistant Principal and was then offered the opportunity to take over as Principal of Perris High, my Alma Mater; it was an opportunity I quickly jumped on! It gives me a great deal of pride to take on this position and once again work with the phenomenal students, staff, parents, and community members. As a third generation graduate of Perris High School I take a great deal of pride in the success of our school and have a unique perspective of having been able to see where PHS has been and where we need it to go.
There are many great programs and pathways in place for our students to experience on their journey towards graduation. It is our goal that all students attending this school receive the necessary support and instruction to help them be college and/or career ready when they walk across the stage at graduation.
Thank you for taking the time to look around on our school website and see the resources and useful information that has been collected here. If you have a student that attends Perris High please be sure to create your Infinite Campus web account where you can track their grades, attendance, and communicate via email with their teachers. If you have any questions, comments, or concerns please feel free to contact me by phone, email, or facebook on my PHS Principal's page.
Sincerely,
Nicholas Hilton
Principal
nick.hilton@puhsd.org
P.S. Please pardon our dust, PHS is going through a much needed phase of reconstruction. Our facility is in the middle of a multi-year process in which the majority of the campus will be demolished and built anew. If you don't drive by on a regular basis you will soon not recognize it!
Assistant Principal - Adriana Lepe-Ramirez
Welcome new and returning Perris High School Panthers to the 2015-2016 school year!
I look forward to a very positive and dynamic school year. This will be my fifth year as Assistant Principal at Perris High School, and I will be overseeing the counseling department. I come to you with 19 years of experience in education. Thirteen of those years have been at the secondary level. My goal for this year is to continue Perris High School's commitment to excellence, and provide students, parents and the community an opportunity to work in conjunction with school personnel to ensure that we continue to make progress towards becoming a top performing school within Riverside County.
I earned my Master's Degree at California State University, Sacramento in Education, with an emphasis in Urban Educational Leadership. I earned my Bachelor's degree at California State University, Los Angeles in Social Science with a minor in History. My teaching experience was primarily with inner-city at-risk youth throughout Los Angeles County, where I also began my administrative career. I have spent the last 7 years as an administrator within the Perris Union High School District. It is with much pride and enthusiasm that I continue my journey as a civil servant to you and rest of the Perris family.
I am eager to begin implementing the various programs we have planned for our students and parents. We are anticipating a strong parent presence and participation in creating opportunities for students to excel academically and socially.
I look forward to an amazing year, and thank you in advance for allowing me to serve as a part of your child's academic achievement.
Sincerely,
Adriana Lepe-Ramirez
Assistant Principal
adriana.lepe@puhsd.org
"Kids don't care how much you know, until they know how much you care."
~Unknown
Assistant Principal - Mrs. Jasper Lucas
Dear parents and students,
I am excited and honored to be an integral part of your child's education. My passion for lifelong learning and a dedication to ensuring the success of ALL children is what brought me into the field of education. I'm excited to join the Panther community this school year. This is my third year as an Assistant Principal, first year at Perris High School and I am overseeing discipline. As the Assistant Principal, it is my goal to build strong partnerships with all stakeholders. I am dedicated to creating a school where teachers, administrators, parents, and community members work together to create a rich learning environment for our students.
Prior to becoming the Assistant Principal at Perris High School, I earned my Bachelors of Science in Mathematics with specialization in Computer Programming at University of California, Los Angeles (UCLA). After earning my degree, I was accepted into a doctoral program at Columbia University to earn an EDD in Mathematics Education. While earning my doctorate was rewarding, I longed to be in the classroom teaching my own class. I applied and was accepted into New York City Teaching Fellows, where I began teaching high school mathematics immediately, while earning a Masters of Science in mathematics education at City University of NY, City College. While teaching, I also became the mathematics department chairperson. I realized that I enjoyed working with the staff in addition to the students and started my Masters of Science in School Building Leadership at Mercy College. Soon after, I became an Assistant Principal at a New York City public high school.
I'm excited and honored to be an Assistant Principal of this great school. My door is always open and I welcome your feedback. I look forward to working collaboratively with you and your family to help maintain the high standard of student success at Perris High School.
Sincerely,
Mrs. Jasper Lucas
Assistant Principal
jasper.lucas@puhsd.org
951.657.2171 ext 21102
Assistant Principal - Kristi Coulter